Barry University students, faculty and staff traveled to Florida's capitol to meet with state legislators and advocate for Barry's priorities during the 2013 legislative session.
During their two-day visit to the capitol, nine student leaders met with state representatives and senators to thank them for their support and discuss the effects that any possible budget cuts to funding would have on the university and the future of its students. Highlighting their discussion was the Florida Resident Access Grant, a state-funded grant that provides tuition assistance to Florida full time, undergraduate students attending private, non-profit Florida colleges and universities.
Barry University took center stage at the Capital Building throughout "Barry Days," and the third floor of this Florida legislative hub was taken over by an impressive display featuring the university. Additionally, on Tuesday, March 12, the Barry University Alumni Association hosted a reception for the entire Barry community. Over 75 alumni, students, faculty, staff and guests were present to make valuable new connections and enjoy the sunset views of Tallahassee from the eighth floor of Hotel Duval. Event photos
Barry Days in Tallahassee is an annual legislative advocacy activity directed and executed by the Department of External and Government Affairs. For further information, please contact Elizabeth Besade Perez at (305) 899 -4758 or ebesade@mail.barry.edu.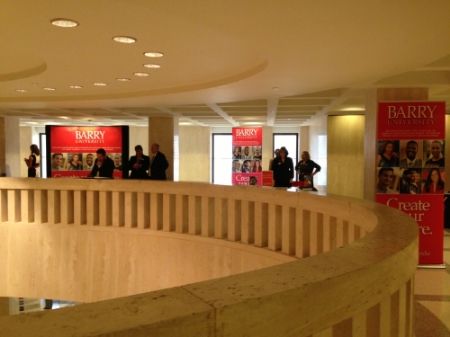 Barry University display on the third floor of the Tallahassee Capital Building
Alumni enjoying the Barry reception at Hotel Duval
An evening of fun and excellent networking opportunities