Beatriz Calvo- Peña, Ph.D.
Associate Professor of Spanish Foreign Languages Coordinator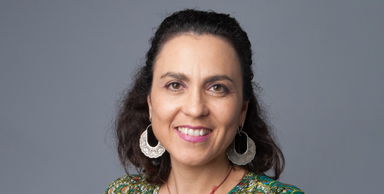 Beatriz Calvo- Peña, Ph.D.
Associate Professor of Spanish Foreign Languages Coordinator
bcalvo-pena@barry.edu
Education
BA and MA in Romance Languages, Universidad Complutense de Madrid

Ph.D. in Romance Studies (concentration in Spanish), University of Miami
Areas of Interest
Spanish Linguistics and Literature, Translation, Cultural Studies with a focus in press and music, Women Studies, Spanish for professional purposes (business, nursing, marketing).
Biography
Beatriz Calvo-Peña is Associate Professor of Spanish at Barry University. She has worked in several universities both in the United States and Spain, where she has lectured both in Spanish and English. She completed her Ph.D. at University of Miami with summa cum laude in 2006 and moved to Virginia, where she taught undergraduate and graduate level courses on Spanish language, literature and cultural studies at Christopher Newport University. After teaching two years at Saint Louis University in Madrid she was appointed Postdoctoral Researcher at Universidad Carlos III, where she taught courses in online journalism and social media. Later on, she taught English for Specific purposes at Universidad Camilo José Cela. She has been awarded grants and academic awards from renowned institutions, including the National Endowment for the Humanities, University of Miami, Florida International University and Spain's Ministry of Education. Dr. Calvo-Peña has published extensively in scholarly journals and books on a wide variety of research interests, ranging from Latin American Literature XIX Century to Cultural studies with a focus in the Caribbean region, from Cyberactivism to Women studies. She has authored the book Tetuán (on the history of this Madrilenian neighborhood) and edited the book Buena Vista Social Blog: Internet y libertad de expresión en Cuba . Parallel to her job in Academia, she has also developed a career in the private sector as a translator and journalist for more than 10 years.